In the vast steppes of Mongolia, a group of traditional herders tend to their cashmere goats, as they have done for generations. As the harsh winds whip through the rugged landscape, the herders carefully comb the soft undercoat of the goats, separating the delicate cashmere fibers from the coarser outer coat. Despite the challenges of their way of life, the herders take great pride in the exceptional quality of their cashmere, which is why Mute by JL proudly sources our cashmere from Mongolia.
One of the key factors that sets Mongolian cashmere apart from other types of cashmere is the skill of the traditional herders who have been raising cashmere goats for centuries. These herders have an intimate knowledge of their animals and the environment in which they live, allowing them to produce high-quality cashmere that is both sustainable and environmentally friendly. Under the watchful herder's eye, the goats are allowed to roam freely and graze on the natural vegetation of the region, producing a wool that is free from harsh chemicals and additives.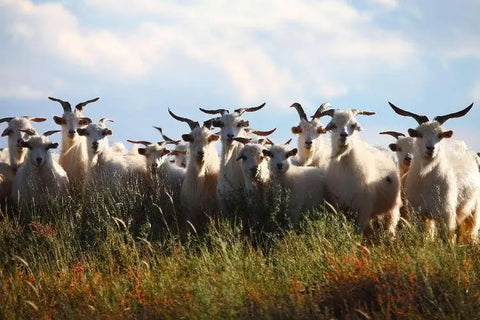 Their continued practice in their herding methods and meticulous craftsmanship ensures the creation of a truly unique and luxurious product. The cashmere fibers are finer and longer than those from other regions, giving the wool a uniquely soft and silky feel. In addition to being exceptionally soft, the material provides lightweight warmth and high durability. It has incredible insulating qualities and durable nature as a result of their adaptation to the harsh winter conditions in northern Mongolia.
While part of our decision to use this highly-coveted material is to produce original pieces of exceptional quality, our choice in Mongolian cashmere also reflects our values of sustainability and social responsibility throughout our production process. We think of cashmere as a double investment; an investment piece for our clients to cherish for years to come, as well as an investment into the local economy of these traditional herding communities of Mongolia. As we share with you the journey of our coat-making process, we hope that you will appreciate the culture of craftsmanship embodied in each of our pieces.